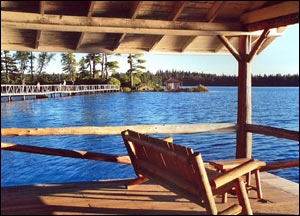 Welcome to White Pine Camp, a lovingly restored Adirondack Great Camp that once was the summer White House of President Calvin Coolidge.
In the tradition of the Adirondack Great Camps - magnificent rustic compounds of comfort built a century ago by the rich and powerful on wilderness estates - White Pine Camp offers a year-round restful retreat in unparalleled natural surroundings. Here, in the heart of the Adirondacks - the largest protected wilderness in the continental United States - guests receive the key to peace and tranquility, a place to recharge the spirit.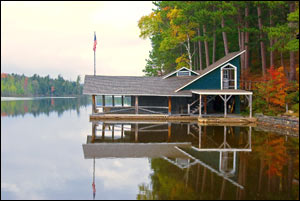 As a guest, you have your choice of 13 distinctive cabins and cottages with soaring roof lines, hand-built Adirondack-style furniture, stone fireplaces or wood stoves, and breathtaking views. Two cottages are pet-friendly, and most have private porches or patios.
Also, as a guest, you have total and unlimited access to all our facilities and activities.
Want to go fishing or boating? Just walk down to one of our two boathouses and grab a canoe, rowboat or kayak.
Want to hike? Head out on a trail right outside your door.
Want to swim? Enjoy an invigorating dip in the crystal-clear waters of Osgood Pond. Like to bowl? You can do so in the vintage bowling alley used by the President himself... as long as you set your own pins.

And don't forget to bring a good book. White Pine Camp literally has dozens of indoor and outdoor hideaways to while away a lazy afternoon - be it by a roaring fire in the "Great Room," on a rustic bench in our Alpine garden, or in our iconic Japanese tea house on a tiny island accessed by a 300-foot wooden bridge. Should you tear yourself away from camp, you'll find an entire smorgasbord of natural adventures. We are surrounded by the St. Regis Canoe Wilderness, with some of the most extensive paddling routes in the country. And, "down the street" - our version of two miles - is Paul Smith's College, where you are welcome to enjoy the fitness center, café and Visitor Interpretive Center, the ultimate source on snowshoe, cross-country skiing, bird watching and back-country hiking. When the desire for more "refined pursuits" surfaces, strike out for nearby Saranac Lake, named "The Best Small Town in New York State," or Lake Placid, with its numerous fine restaurants, antique shops, boutiques, and Olympic venues and activities. But, by far, the "Best of the Best" is White Pine Camp, a jewel in the Adirondack Great Camp tradition of classic rustic lodging in an astonishingly beautiful setting. Bring your family... your friends... or just bring yourself. Our cabins and cottages have enough variety to accommodate all.